We make your ideas a reality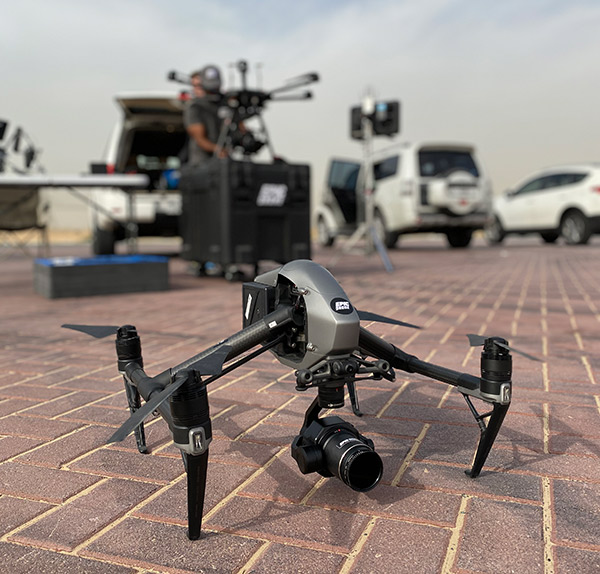 Give wings to your dreams and visualise your imagination. Horizon is the limit now. With superior quality professional drone cameras, Space Drone, Drone Filming Company Dubai will partner with you to realise your imagination. Chasing the momentum of the film world and racing with time is made possible with a dynamic range of drone cameras that can follow any object. High-resolution cameras also prevent the loss of image quality by capturing high-resolution footage of landscapes and moving objects. Availability of interchangeable lens and Drone Team with Cinematography Background guarantees to capture the footage to match your creativity. The Cinematic Drone Team in Dubai supports you to explore new terrains and capture the scenes with intensity. The footages are sure to immerse your viewers in the visual treat offered by you.
Uncompromising drone kit support
We Speak Cinematography and extend support for Feature Films, TV Commercials and Corporate campaigns. Inspire 2 (6K) drone kit having 94Km/HR speed, Cinema DNG support, nine sets of batteries, 16 mm, 24mm, 35mm and 50 mm lenses, director monitor with full HD downlink and backup system help your filming experience.

Heavy Lifter M600 Pro with Ronin MX Gimbal, on-location charging facility, DSLR and Medium Format photo payload and backup can also offer a comfortable filming experience to your team.

Space Drone, Dubai, has a team of trained Drone Operators who can work as a support structure for the filming team. The company, with an excellent reputation, is a leading drone camera provider in the UAE. Customizable Drone support offered by the team will help you explore the scope of aerial filming.